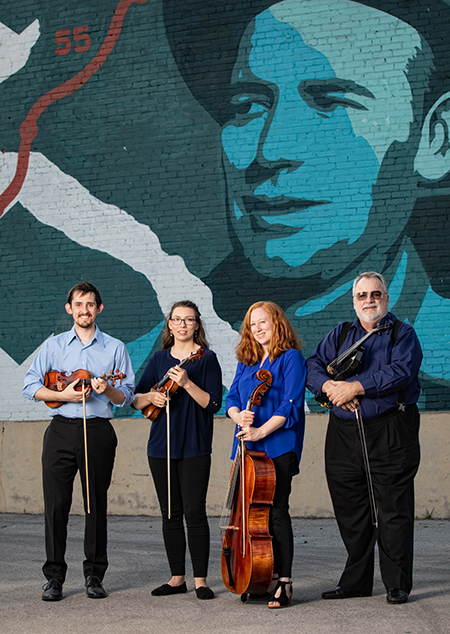 The Signature Quartet at Tulsa Community College was established in 2001 as an education and performance quartet. The quartet performs more than 100 concerts a year in front of audiences of all ages. It performs works from Ludwig Van Beethoven to Michael Jackson.
The quartet members also teach and coach more than 1,000 students each year. The quartet shares the emotional and personal benefits of music as well as impact youth in Tulsa and the surrounding area with Signature Symphony's Higher Scale.
Higher Scale operates as a partnership between Signature Symphony, Tulsa Public Schools and Tulsa Community College to take music education and experiences into elementary schools where music programs otherwise would not exist.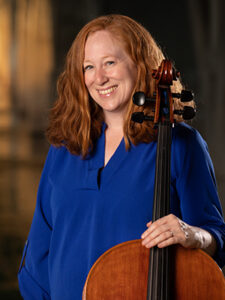 Erica D. Parker, cellist, has been working professionally with Signature Quartet and Signature Symphony since 2001. She is an advocate for music education in Tulsa Public Schools specializing in at-risk areas and continuing to coach and teach students in the Tulsa area. She has a Bachelor of Music from the University of Oklahoma and a Master of Music from the University of North Carolina Greensboro. Erica has premiered many new compositions at the Southeast Composers Conference. She has performed with Rod Stewart, Casting Crowns, Van Cliburn, and many other talented artists. She is a professor at Tulsa Community College and Oral Roberts University. She coaches cello students at TulsaFest in the summers and recently added a workshop for adult cello students at Oral Roberts University. She did a national and regional premiere of 10 brand new compositions with Portico Dance Theatre. Recently, she spoke at TEDxOU, How Music Helped Find My Father, telling her story about losing her father to dementia and discovering how her music could find him again.
Jeffrey A. Smith holds four degrees in music: a Master of Music (Viola) from the Cleveland Institute of Music; a Master of Music Education from the University of Tulsa; a Bachelor of Music Education from the University of Tulsa (With Honor); and a Bachelor of Music (Viola, With Distinction) from the University of Kansas. Jeff is one of only a few Digidesign (now AVID) Certified HD -7 Pro Tools Operators (Audio Engineering) in the state of Oklahoma. He is a member of the National Academy of Recording Arts and Sciences. He has taught all instruments (strings, winds, and percussion) at all grade levels since 1979, served as a contest judge, clinician, and as the 1992 All-OMEA (All-State) Orchestra Chairman.
He is a founding member of the Tulsa Little Symphony and is currently the Principal Violist of the Signature Symphony at TCC. He was a member of the Tulsa Philharmonic and Wichita Symphony Orchestras. He is the past President of the Oklahoma Chapter of the American String Teacher's Association, and in the summer of 1996, served as the Principal Violist of the Twenty-Fifth International String Orchestra in Graz, Austria. He has taught middle school strings at TulsaFest since its inception. He is President of SongSmith Records, a digital recording facility and record company and has composed several works for full orchestra and many arrangements for string quartet.
Jeff played "fiddle," guitar, keyboards, and ran the monitor mix and the light show for Dale Christenson and Prairie Fire for 10 years. He also played with the Ray Marshall Band and has performed with several national touring productions including Camelot, Peter Pan, and Sunset Boulevard. In the fall of 2002, Tulsa Public Schools honored Jeff with an award for excellence. In 2003, the Oklahoma Chapter of the American String Teacher's Association named him "Teacher of the Year." In 2007, after 27 years of service, he retired from public school life to concentrate on the development of young artists through SongSmith Records.
Jeff and his wife, Robin, adopted their son, Edik, from Russia in 2010. He proudly rides his motorcycle as a Ride Captain with the Oklahoma Patriot Guard Riders.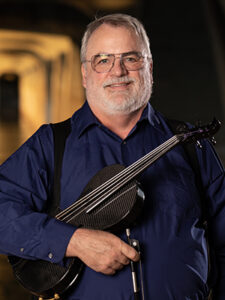 Corbin Bodley is First Violin with the Quartet and graduated from the University of Tulsa with a Bachelor of Music in violin performance, studying with Maureen O'Boyle. He also serves as Principal Second Violin in the Symphony and plays regularly with the Tulsa Symphony Orchestra, Tulsa Opera, Bartlesville Symphony Orchestra, and other groups.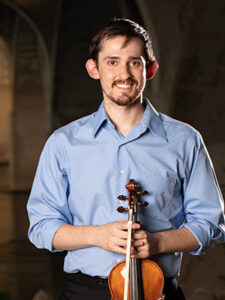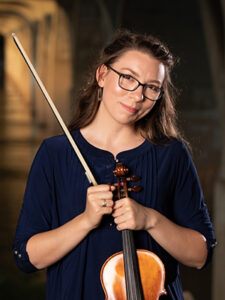 Sarah Bailey is Second Violin with the Quartet and graduated from the University of Tulsa with a Bachelor of Arts in Music, continuing her studies in Music Therapy at Oral Roberts University. She is a licensed and board-certified music therapist and is Suzuki certified. Sarah also serves as a violist in the Symphony.